Sunday afternoon was strange. It's normal for travel days to consist of stress and excitement. I've a taste for that emotional cocktail. This trip, however, is my biggest yet. For one whole year, I'll be fleeing the familiarity of the US and the comfort of my own friends and family for an adventure down under.
Emotions came at me in countless forms from all directions. As we drove to Newark airport with leather heated seats in my Dad's F150, waves of comprehension hit me like storms. Nothing more than thoughts, phone calls, pop songs, and the final sight of the NYC skyline made me well, burst, and splatter my glasses in silent tears.
The last of these storms blew through while giving my parents a final "see you later" hug. After that, the shock and delight of advancing through a lackadaisical Sunday-afternoon EWR inspired a sense of calm. We were first in line for security check, and had plenty of time to enjoy a Ruby Tuesday lunch near our gate.
To wash away the last of any possible apprehensive feelings, we ordered a Sam Adams Winter Lager to toast to America. Instead of an expected pint, a 20-ounce glass came to our table.
This would be my penultimate beer measured in the Imperial system.
The Long Haul
The flight to Texas was more or less spartan and uneventful. There wasn't so much as individual screens at our seats (a fine tradeoff given the updated model of this plane had disastrous malfunctions and removed from all fleets) so I made due with a combination of deleting old pictures on my brand new phone and enjoying a re-read of Harry Potter and the Prisoner of Azkaban.
In less than four hours, we were in Dallas for a short layover before commencing our 17-hour leg.
Rich and I shared "the comfort row"–something we were told can only be booked flying from Dallas–which afforded us two seats a piece in the center aisle of the plane. Qantas flights, unsurprisingly, are packed with Australians returning home and a peppering of Americans seeking adventure. The man seated in front of me, with sun-bleached shaggy hair and a perpetual case of UV-induced rosacea, was undoubtedly Australian. Later in the flight I would hear him telling his row-mate about "fetching a big chicken in the bush;" ie, eating wild birds in the outback.
A Brief Australian Film Study
This would be my fourth haul over the Pacific, so I've grown quite accustomed (dare I say comfortable?) to the routine. Awaiting dinner to be served, I chose my first movie from the impressive lineup offered in the individualized entertainment system: Two Hands. This Australian film stars a young, sweaty Heath Ledger in all his native Australian glory.
It had all the hallmarks of a good film, weaving gangsters into a love story with hints of humor, heartbreak, and the super natural. It was a good film that I'd highly recommend. Most importantly, it helped to begin training my ear for the hearty Australian accents.
Dinner was served and shortly after the stewards made their second round of cleanup through the cabin, the lights were dimmed. For some pre-sleep, light-hearted fun, I chose Bridget Jones's Diary to watch. I found it to be adorable, hilarious, and accented in Australia's queen mother tongue. I seemed to have found my theme for this flight.
Normally on these flights, I seize the opportunity of being completely off the radar to enjoy undisturbed activities. Reading, coloring, binging shows, and writing. This time, I decided instead to recalibrate my body clock and get some sleep.
When I closed my eyes, we had less than 14 hours of remaining flight time. When I was ready to wake (having devastatingly missed the mid-flight snack of a spinach puffed pastry) we had about 4 hours left. There was only one way to truly prepare myself for what would be awaiting me when we landed: a viewing of Crocodile Dundee.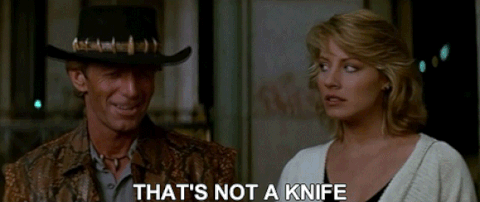 Smoke Screens
Excited as we were to land, I also found myself slightly perturbed. As soon as the engine was turned off and the natural air could seep into the plane's vents, the scent of smoke was palpable. The recent wildfires put the needle of the Fire Safety gauge at Catastrophic–a level that Smoky the Bear doesn't even consider.
Since it's summertime here, it's hot and dry. This year, that's resulted in the country's worst bushfires on record, turning much of the state into, as locals say, "a tinderbox."
In the terminal, the low-hanging smoke could be seen just out the window, linking both sight and scent to the devastation.
In Sydney, we're relatively safe. But the smoke has made its way here too, serving as a reminder that even a holiday in paradise comes with its own troubles.
Great Expectations
If you're wondering what it really feels like to be here on a perfect day, I'm happy to report the movies paint an accurate picture. They capture many aspects of Australian life well; particularly the sounds. While I'm not staying in a middle-of-nowhere town like Walkabout Creek (though, I will have a few experiences to share of far-out towns at some stage), you can't really escape the wildlife of this country.
No, you won't see kangaroos bouncing around by the Opera House, but you will see behemoth birds and even the occasional lizard, snake, and spider in the outskirts of the city.
Australians all share a touch of Englishman-gone-wild. Wallabies, wombats, and kangaroos will be rampant in those Walkabout Creek-like reaches far from the city. Even so, this country instills in all its citizens a sort of respect and pride in the natural environment.
I'm sitting outside now, writing under a slight smog, amongst the diverse and wild nature that exists, even in the suburbs of Australia's largest city. Massive white cockatoos with angelic wingspans sit on phone wires with kookaburras. No sight of spiders yet, but the three cats I'm living with will likely fend them off.
But this is a city of people, too, and adjusting to life outside of wild-life spotting will serve as its own adventure.
It wasn't until the second day that I realized the real gift of being here for a year: unlimited access to Milk Arrowroots. These simple delights are like an Australian biscotti, accompanying morning coffee and the charming tea-time that's enjoyed several times throughout the day.
Last time I was here, Rich's brother Michael lent me a book: Scar Tissue by Red Hot Chili Peppers frontman, Anthony Kiedis. The funny thing about that is just how American Anthony Kiedis is. Born in Michigan and an LA-transplant, he's a rock'n'roll icon known the world over.
This time, he recommended and offered a new installment for our pseudo book-club: an autobiography of RHCP bassist, Flea. Also an international rock icon, Flea is actually Australian-born.
I myself am often shocked how many times these two worlds have quietly collided (CC: Heath Ledger, Hugh Jackman, Kylie Minogue).
I have plenty of reading to do. Plenty of dialect and slang to recognize. Ideally, once I spend some more time and expand my vocabulary, I'll be able to put this distinct and varied squawking of native birds into words.